Written By Chev Riley, EMT
I first met Brian Oftedal and Zach Hilton as an off duty EMT in 2013. On that particular morning, a motorist collided with a car outside my house. I stabilized C-Spine until Lieutenent Oftedal (at the time he was a Lieutenant now he's a Captain) and Engine 16 arrived on scene. Hilton and Oftedal asked a couple questions, and thanked me for helping out. Oftedal followed up and gave me an invitation to next BAPJC dinner. I've been attending ever since. Whenever I attend the Bay Area Paramedic Journal Club dinners I wonder who will show up, the people I'll meet, what topics will amaze me (because it happens every time), and most important, what we're eating. Let's be real here, I'm coming hungry off of work and looking forward to my three course meal. I know how these dinners work. My favorite presentation so far was the Asiana Plane Crash, but tonight's presentation with the Field Amputation might top it. The complexity of calls that people experience is what most interests me about BAPJC. BAPJC holds a voice for EMS personnel to reflect on the trials and tribulations from experiences out on the field, and to encourage discussion and potential solutions with the best platform and audience.

Tonight's BAPJC included some great speakers, starting with Pat Frost discussing pediatric disaster preparedness. Early on she pointed out what trait EMS personnel all have in common which is to care for others. I agreed, my reason becoming an EMT is that I care for people. I can recall some of my experiences on the ambulance when pediatric calls had a different type adrenaline rush. Hearing a mother's cry with her baby in her arms can stir up anxiety, but we've practiced this before, we know what to do. We've trained over and over again to prepare for this situation. Let's keep in mind, as much as you can be ready for a call, things change so we have to prepare for that as well. Frost reiterated, that training is what makes first responders great but then asked about the training in place for a Pediatric Disaster. Recalling the various types of training I did to heighten my expertise as an EMT, it was limited and varied. I haven't participated in a Pediatric Disaster Training, and that's the problem. All training conducted for acute care staff or as an emergency responder should have the adult version as well as the pediatric version. Every EMT skill performed for the registry should have a pediatric version as well. The results from a pediatric disaster isn't the time to organize training, it needs to happen now. More awareness, versatility, and retention to detail with pediatric emergency care needs to be more common place, as children's bodies demand quick, proactive, and confident EMS workers and resources.
The second speaker was Brian Ruth a Paramedic student from Fast Response. He presented data that supported the concept of slowing the initial IO flush, which can cause fat infiltration into the blood stream. Revealing, patients complain they feel pain when a responder or caretaker pushed the saline flush to aggressively after administering a drug through an IV access. The faster they pushed the flush, the more pain the patient felt. I don't have any experience with flushes, however this made think of the little things that count. Maybe the patient wants an extra pillow, or adjusting the patient so that they're comfortable in the gurney. What Brian Ruth is presenting isn't a change to a protocol, but remembering what patients go through is life changing, and anything we can do to make it easier, safer and painless for them, we should do it.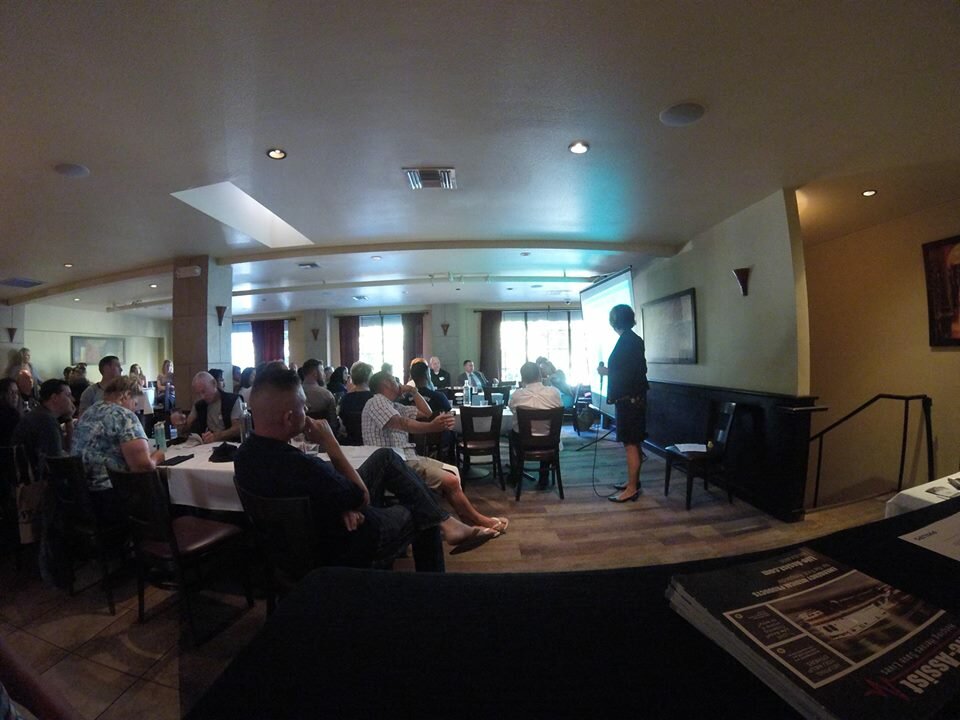 The third speaker Captain Mitch Matlow presented Field Amputation, something I've never considered something possible out in the field before. But that's what the BAPJC dinner does, creates a forum to make the unthinkable very realistic. Captain Mitch Matlow reinforced his presentation with earthquakes, specifically relating to California. All Californians are aware that a major earthquake is due any day now. Referencing back to the Loma Prieta back in '89, easy to understand all hazards an earthquake is capable of creating; all types of rescues, fires, vehicle accidents, medical emergencies all at once. We have a highway called 980 because of Loma Prieta. Fire departments require specialties to protect its city, with those responders certified in their specialized scope; rescue, hazmat, maritime etc. For example, let's consider a firefighter assigned to a specialty unit, who is legally allowed in the most dangerous situations, but can only stay within their scope of emergency medical practice if medical help is needed. A paramedic scope of practice is the highest any firefighter can perform. Any amputation cannot legally be performed by a paramedic. which only certifies a surgeon to perform, whom that person is not legally allowed in the most dangerous of situations given they're not trained for it, what are we supposed to do? I believe the most difficult aspect of a field amputation is the critical thinking and stress spent over a short amount of time. Ethics to think about in this situation would be life vs limb, the golden hour, and consent. But is this something we should be prepare to endure? The Loma Prieta in '89 created this same atmosphere where some were faced with a similar situation. What would you do? Did I mention the Good Samaritan Act?
My first invitation to a BAPJC dinner started with upholding my duty to act. Helping someone who collided into a car outside my house while off duty. I always feel that BAPJC reiterates doing the best for someone who's in need. Since, BAPJC has enhanced my professional lifestyle, challenging my critical thinking skills to address the same issues my local EMS family deals with every day. I've created a network of amazing people who care about their job and others from BAPJC, while preparing to keep my standard of care and local EMS strong.

This Blog Post in Sponsored by our October Premiere Sponsor Aloe Gloe